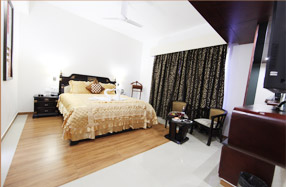 Deluxe Rooms
All of our rooms evoke a feeling of comfort and convenience combined with contemporary urban design, charm and high-tech amenities tailored to the business traveler's needs.
Our unique rooms feature complimentary WIFI connection, LCD TV, telephone, mini bar, individually adjustable air-conditioning, in-room safe (for laptops), luggage rack, toiletries kit, hair dryer and en-suite bathroom with shower. Non-smoking and smoking rooms and extra beds (roll away or baby cot) are available upon request.
The size of the two room types is the same, in case of a relax room reservation we would like to make our guests' stay more pleasant providing "relax services"
Banquet Hall
Hotel White Dammar offers a unique space for meeting purposes. The room is adjacent to the hotel lobby area and can be separated by a full glass wall to be used as a private meeting room filled with natural light. This stylish hall satisfies the requirements of elegant social gatherings, entertainment and it is equipped with a beamer, cutting-edge light intensity control system, motorized projection screen.
BANQUET HALL ( No. of PAX)
APPLE TREE 300 TO 500
MANGO TREE 150 TO 200
ORANGE TREE 50 TO 75
MANGOSTEEN 30 TO 35
LEMON TREE 12 TO 15
Conference Hall
We are proud to welcome you in our à la carte restaurant - Hotel White Dammar - which features exceptional delights of International and Hungarian cuisines.If you would like to eat a reasonably priced, excellent lunch or dinner please visit Hotel White Dammar during your trip in Trivandrum.
Executive Bar
Executive Bar with its international look, feel and contemporary cutting edge design brings the best to Trivandrum. It offers unique ambience, be it indoors or outdoors. Indoor, guests can view ripples of over the curtains. It is located along the perimeter of the hotel, facing the lush central garden. Here, guests can enjoy the outdoors at the timber alfresco deck, which is greened with giant bonsai trees and large over-scaled seating with bespoke standing French baroque torchers. Executive bar's alfresco dining pampers those who want to lounge on contented conversational sofas.
The design and element has an ascent of Indo-western art. Textures and colors used to design the dazzling bar are exceptionally edgy. The bar looks enormously stunning with black carpets, shimmers and white curtains. The ox blood red upholstery sits on metallic black carpeting.
A special feature of transparent concrete is constructed at the bar top. The black Luccon top looks solid in the daylight, but as the night falls, millions of fiber-optic threads allow light to pass through the stone and onto your drink placed on the bar.